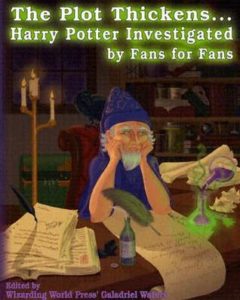 The Plot Thickens... Harry Potter Investigated by Fans for Fans
by
Galadriel Waters
,
Christina Conley
Published by
Wizarding World Press
on December 1st 2004
Pages:
277
Goodreads
The Ultimate Unofficial Guide to Harry Potter broke new ground as a book by fans for fans. Now, Wizarding World Press takes that one step further by collecting the best pieces from 50 budding authors, ages 7 to 47 -- and representing 9 countries -- from the most popular Harry Potter fan site, MuggleNet.com. Sure to spark lively debate among Harry Potter sleuths and fans, these essays are as entertaining as they are thought-provoking.

4 Nuts
You may remember that I was a childhood Harry Potter super nerd. I had 2 shelves worth of Harry Potter related literature, both from the pen of Rowling herself and not. This book was one of the ones I had, from the Harry Potter publisher Wizarding World Press.
Of the Wizarding World Press books, this one had my favorite cover. I alway called him "Bored Dumbledore", though I have no idea whether this illustration is supposed to be Dumbledore or not. Regardless, I like him.
Unlike the Ultimate Unofficial Guides, this book is organized in a series of essays, most of which I believe were once published on the Harry Potter fan site MuggleNet.com. Many of these essays are predicting how the series would turn out and I don't think commenting on their accuracy has mush to do with the quality of the book. What does matter is the fact that each essay is incredibly detailed and obviously lovingly put together but their authors. These are people who are as passionate about Potter as I was and it was beautiful to sit down and read what they had to say, like I was talking to people who loved the books as much as I did.
This book has the same editor as the writer of the HP Sleuth books, and many of the Wizard World Press books are all related in some way. To have the entire set was to be the biggest Potter nerd at the time and I loved being able to say that with distinction I was obsessed.
While I don't think this book is quite as good as the Ultimate Guides as I think I preferred their format of theorizing, I really enjoyed this book and they are so close that I still gave it the full 4 stars.
If you are a big Harry Potter nut and can still manage to find one of these beauties (I don't know if they're still in print) I highly recommend checking them out. Partly for nostalgia and partly for the content, I still love these books and I wish I would have kept my original copy.
What was your favorite non Rowling written Potter book? Share yours in the comments below. And if you had this book and remember it share those memories too!
From my shelf to yours,
Erin
Related Posts