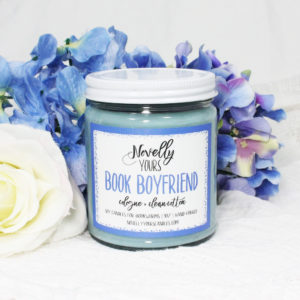 When you think of big name bookish candle places who do you think of? Probably Melting Library, maybe A Court of Candles, and of course Novelly Yours.
When it comes to bookish candles and variety, there's no one better than Novelly Yours. They have some of the biggest selection of scents, themes, and sizes. I particularly enjoy their teeny tiny 2 oz tins (which they have recently switched to jars) for testing out whether or not I like a scent.
The one complaint I had with Novelly Yours was with their labels. NY has probably the simplest labels out there, which honestly aren't the best for pics. However I have noticed that the label quality has gone up quite a bit in their switch from tins to jars, adding a colored border to the label that makes them look much better than the original paper labels.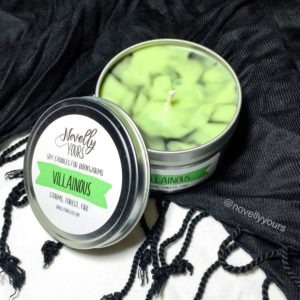 Novelly Yours candles are well priced, even cheap as bookish candles go in this community. They offer samples and tiny collections of tins that you can mix and match for a low enough price that you won't break the bank trying to pick out your favorite scent.
My personal favorite scents vary. I really enjoy the High Lady candle that I ordered as the candle of the month, as well as my Darkling and my Night Triumphant. I'm really trying to get myself a Cunning candle to go in my Slytherin collection, and there are a few others I'd like to add as well.
I have heard tales of Novelly Yours candles melting in warmer temperatures, particularly in areas such as Florida or California if left outside or in un-air conditioned areas. Most candles will tell you to store in a cool, dry place when not being burnt, and this is why. I do not know if this is a phenomenon limited to just Novelly Yours or not but your best bet is always to keep your candles out of the heat.
I like Novelly Yours, especially as a starting point as you get into the world of bookish candles. They're inexpensive, have great selection, and the majority of the scents are really nice. Not only that but Novelly Yours' customer service is some of the best I've ever experienced. She is completely on top of any questions or problems you many have. She's fixed more than one little whoopsie for me without question or hassle.

This is a 4 Nut business.
Who is your favorite candle maker? Share yours in the comments.
From my shelf to yours,
Erin
Related Posts