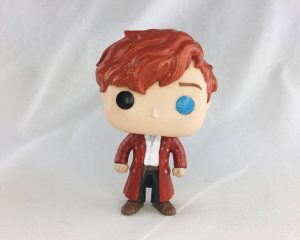 Longtime members of the community may know the name Page with a View as a popular blogger but did you know they also have an Etsy shop? Now what would a blogger/bookstagrammer sell? Bookstagram props and custom Pop figures of course!
There are a couple of popular Funko Pop customizers in the community and A Page With a View's work is highly sought after. Though expensive, these pops are made using existing Pop parts to help bring down the cost. Add a little clay work, some paint, and a lot of hard work and you've got a fabulous bookish Pop.
Cait, the owner, is wonderful. She's open and helpful, even encouraging for new customizers (like myself) to share a few tips and material recs.
It would be easy for Cait to hoard her knowledge. But no, Cait is fabulous and has started writing Pop tutorials on her blog (I'm eagerly awaiting the wing tutorial). She talks about materials, styles, even how to swap bodies and heads for those of us who don't want to start from scratch.
Here are some of the posts, and future posts, Cait has/will have done.
What I've Been Doing
Supplies & Basic Tips
Tutorial
How to Make Clay Wings (that can handle shipping)
Grisha Characters
ADSOM Characters
ACOTAR/TOG Characters
Lunar + HP Characters
Other Characters
So if you're looking for a custom check out Cait's Etsy and support a community member. I love to look at her page and guess which parts come from which original pops. It's a fun game to play.
Check out Cait's Pop IG, A Page with a Pop, for updates and cool pics of her stock.
How is your favorite customizer? Share in the comments.
From my shelf to yours,
Erin
Related Posts