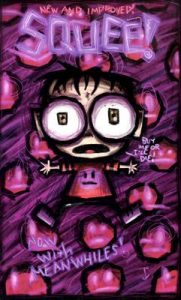 Squee's Wonderful Big Giant Book of Unspeakable Horrors
by
Jhonen Vásquez
Published by
SLG Publishing
on August 1st 1998
Pages:
144
Goodreads
Squee's Wonderful Big Giant Book of Unspeakable Horrors collects together the four issues of the Squee comic book series from SLG Publishing. It also contains reprints from the popular Jhonny the Homicidal Maniac series that didn't appear in the JTHM: Director's Cut book.

4 Nuts
Ever wondered how a squeamish little dude like Squee survives living so close to Johnny and his maniacal self? Ever wondered why he's always so scared? Now you don't have to wonder! This collection gathers up the story of Squee and all his unspeakable non adventures.
When compared to Johnny the Homicidal Maniac, the Squee story is a little tame. I know, for the rest of the world Squee is probably one of the most fucked up comics ever but we fans of JV know that Johnny easily takes that prize.
Now personally I look at Squee as more of a companion to the Johnny collection. Johnny makes an occasional appearance but without having read those comics I think that Squee is a bit of a lackluster collection on its own.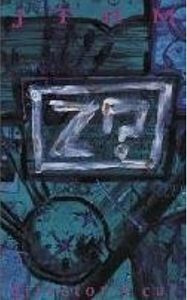 Otherwise, Squee continues on with the strange and weird stories that everyone expects from Jhonen Vasquez. The art stays consistent with the style of Johnny the Homicidal Maniac and even to the sort of cleaned up look of Invader Zim.
If you liked the Invader Zim comics or show and you're interested in Johnny the Homicidal Maniac I would recommend reading this comic collection. If Johnny doesn't appeal to you at all than maybe this one isn't for you either.
What do you think of these comics? Do you interest you at all? Share your thoughts in the comments below.
From my shelf to yours,
Erin
Related Posts