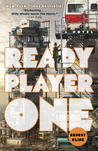 Ready Player One (Ready Player One, #1)
by
Ernest Cline
Published by
Broadway Books
on June 5th 2012
Pages:
374
Goodreads
In the year 2044, reality is an ugly place. The only time teenage Wade Watts really feels alive is when he's jacked into the virtual utopia known as the OASIS. Wade's devoted his life to studying the puzzles hidden within this world's digital confines, puzzles that are based on their creator's obsession with the pop culture of decades past and that promise massive power and fortune to whoever can unlock them. When Wade stumbles upon the first clue, he finds himself beset by players willing to kill to take this ultimate prize. The race is on, and if Wade's going to survive, he'll have to win—and confront the real world he's always been so desperate to escape.

4.5 Nuts
Oh. My. God. I've been hearing about this books for years. I had listened to the first chapter read by Wil Wheaton ages ago and since have been waiting to get a chance at this audiobook (I may have a slight obsession with Wil).
Um, right.
So the first think I have to say about this book is the audio part. Wil is an excellent audiobook reader. His voice is incredibly relaxing, I'm not evening shitting you. I have really bad anxiety but the cadence and timbre of his voice as he reads is soothing to my ravaged brain. He's kind of like my mental health dad now, with the way he talks about his own issues so candidly.
Anyways, onto the actual book.
I'm a huge 80's nerd. Even though I was a 90's baby I LOVE all things 80's. So this was the perfect book for me. I knew every reference, every movie, every song. I reveled in the D&D and unabashed geekery that is the heart and soul of this book.
The dystopian part of the story isn't as obvious and in your face as I thought it would be. It focuses more on the virtual reality, the references, and the puzzles. And of course the video games, hence READY PLAER ONE. So basically exactly what I wanted. This is the book I didn't know I wanted.
The 6ers are total dicks though, and the perfect villains for the story. I love every time they get their asses handed to them, even while other people are like…

The only negative I have was some of the romantic aspects. I will say yes, Wade is a typical teenager boy. He tends to act like one, duh. But at times the teenage boyness leans a bit into objectifying and creepiness. It was my least favorite part of the story.
All in all this is one of my favorite books I've ever read. You heard me, ever. It was sci fi, it was fantasy, it was nerdy. So basically everything I love. And read by Wil? Sign me up!
I'm totally interested in reading/listening Armada now. Also read by Wil (yay!) and still in the sci fi/video game vein, I need some more of this stuff in my brain like yesterday.
Ok, I'm done. I'll go home.
What did you think of READY PLAYER ONE? Share your thoughts in the comments.
From my shelf to yours,
Erin
Related Posts