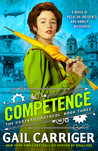 Competence (Custard Protocol, #3)
by
Gail Carriger
Published by
Orbit
on July 17, 2018
Pages:
309
Goodreads
From New York Times bestselling author Gail Carriger comes the delightful sequel to Imprudence.

Accidentally abandoned!

All alone in Singapore, proper Miss Primrose Tunstell must steal helium to save her airship, the Spotted Custard, in a scheme involving a lovesick werecat and a fake fish tail.

When she uncovers rumors of a new kind of vampire, Prim and the Custard crew embark on a mission to Peru. There, they encounter airship pirates and strange atmospheric phenomena, and are mistaken for representatives of the Spanish Inquisition. Forced into extreme subterfuge (and some rather ridiculous outfits) Prim must also answer three of life's most challenging questions:Can the perfect book club give a man back his soul?Will her brother ever stop wearing his idiotic velvet fez?And can the amount of lard in Christmas pudding save an entire species?

4 Nuts
WHAT DO YOU MEAN I HAVE TO WAIT!?
Yes my friends, this is the end of the Parasolverse binge. Not because the author has ended the stories in the universe, oh no. There are more to come. BUT NONE OF THEM ARE OUT YET!
COMPETENCE is book 3 of 4 in the Custard Protocol series. RETICENCE, which is to be released next year, will be the final book, and be more this this book than the previous book. Now, what do I mean by that? Well, unlike PRUDENCE and IMPRUDENCE, COMPETENCE and RETICENCE are not from Rue's POV. Instead this book and its direct sequel are dual POV between the twins, Primrose and Percy.
Now before I get deep into my review, I just need to point something out. IT IS SO DISTRACTING that two of the main characters are called Prim and Rue for short. Literally every time the narrator says their names I'm off in Panem thinking about the HUNGER GAMES. Which has nothing to do with anything, I just find it hilariously odd.
Anyway, back to the review.
Percy's POV is awkward and often unpleasant, just like the man himself. However, over time you can't help but start to find him endearing despite his many faults. Somehow, even though he's still insufferable, Carriger makes the guy surprisingly libable. HOW? I will never know. But she does and you being to enjoy his POV more and more as the book continues.
Primrose on the other hand becomes more and more frustrating. Not to say I don't love her. BUT how long is she WILLFULLY going to ignore her own feelings as well as our dear werelioness? I need some progress in this relationship, Prim! Get a move on. I swear there is always one character being a stubborn ass about relationships, but Primrose really takes the damn cake.
I really enjoyed this book, though it still doesn't touch IMPRUDENCE or TIMELESS. I would, however, put it above PRUDENCE in terms of story and quality. Well, and also cover. This book really has a gorgeous cover.
AND an alternate self pubbed UK cover. If you haven't seen it…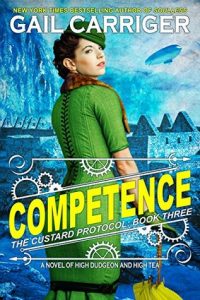 I'm not sure which I like better, but I kind of want to get this one too to add to my collection.
It seems like I'll have a long wait til the last book comes out. Until then I shall pick up Gail's sexy SAN ANDREAS SHIFTERS series and try to hunt down another steampunk that can compare to the Parasolverse. Wish me luck.
Which is your favorite COMPETENCE cover? UK or US? Share your pick in the comments below.
From my shelf to yours,
Erin
Related Posts