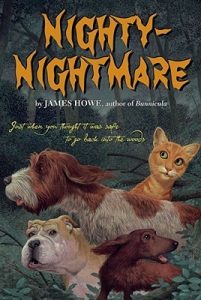 Nighty-Nightmare (Bunnicula, #4)
by
James Howe
,
Leslie H. Morrill
Published by
Atheneum Books for Young Readers
on August 7, 2007
Pages:
144
Goodreads
An overnight camping trip! Not Harold's idea of fun. Too many mosquitoes, ticks and cockleburs. But when the Monroe family set out, their faithful dog Harold was with them, mostly because he remembered that camping could also bring s'mores and toasted marshmallows. Howie, the other family dog, and Chester the cat were also included in the trip. Only Chester thought the idea was completely insane. The woods, he informed Harold, were not only full of cockleburs and ticks, but of spirits, evil spirits who prey on the innocent. And on this, the worst night of the year -- St. George's Eve, when all spirits are set loose -- who knew what could happen.

What Harold knew was that Chester was a well read, over-stimulated cat, full of weird ideas. He did not take Chester's worries too seriously. He had s'more to think about. But then, the Monroes set up camp near two strange men and their even stranger dog, and things began to happen that made even Harold wonder. Could Chester be right?

This begins a long night, full of terrors and alarms, full of Chester's horrifying tale of how Bunnicula, the vampire bunny, was born and came to America, full of storms and a total sense of danger; and at the end came surprises that even Chester could not have predicted.

Once again, the Monroe family may be the victims of evil forces or only of Chester's strange imagination. But whichever, the result is suspenseful and very, very funny.

5 Nuts
Of all of the Bunnicula stories in the main series and the spin offs this little gem, NIGHTY-NIGHTMARE, is my favorite. All of the Bunnicula books make great Halloween reads for kids but if campfire style scary stories are your thing, this is what you want to read in October.
As per usual NIGHTY-NIGHTMARE follows the typical Bunnicula formula. Chester makes an ass of himself and creates the plot. Only this time the book is dominated by a story. Bunnicula's backstory. Supposedly. Whether any of it is true or it's all in our animal heroes' heads, that's as it always is, up to the reader.
This is what makes the Bunnicula series so freaking good. Sure, most things can be explained away by Chester being Chester and the rest of the animals following along. But that's not fun. Besides, there's plenty of evidence to the contrary. Even if Chester is overreacting.
What makes this book so much better is the story within the story. The Tale of Hans and Fritz, and through them of vampires, rabbits, and mystery, is the most compelling supernatural tale I had read up to this point in my childhood. Still today, I enjoy going back to reread this one the most, or at least listen to it on audio. Vampire scientist, vampire children, vampire bunnies? Perhaps. It's an enjoyable tale all around.
As is standard for a Bunnicula book, NIGHTY-NIGHTMARE is full of as many laughs as spooks. It's not an outright scary book, it is for young readers after all. But it does have some creeps and plenty of mystery for inquiring young minds. Besides that, it completely holds up for older readers. The Bunnicula series interested my mom as much as it did me as a kid. Even now, at the end of my twenties, I still love to reread these mysterious little books.
If you're looking for Halloween nostalgia, fast reads, and mild mystery and spooks, pick up NIGHTY-NIGHTMARE. Or better yet, get the audiobook and have Victor Garber spook you while he reads. Either way, you'll have a creepy crawly old time.
What's your favorite Halloween type story? Share your best pick in the comments and tell me your favorite Bunnicula book as well!
From my shelf to yours,
Erin
Related Posts