Jeremy Thatcher, Dragon Hatcher (Magic Shop, #2)
by
Bruce Coville
,
Gary A. Lippincott
Published by
HMH Books for Young Readers
on November 1, 2007
Pages:
176
Goodreads
Sixth-grader Jeremy Thatcher discovers a strange magic shop he has never seen before. He enters, and his life is changed forever. Buying what he thinks is a marble, he discovers he has really purchased a dragon's egg.

5 Nuts
This was my very first introduction to the Magic Shop series, and indeed Bruce Coville's books as a whole. I remember sitting in my elementary school listening to my teacher read to me about a boy and his dragon. As I got older and read more dragon books, this was always the one they got compared to. From the hatching scene in Eragon to the looking for dragon books in the Hogwarts library, these were scenes I always compared to the similar ones in JEREMY THATCHER, DRAGON HATCHER.
I think JEREMY THATCHER is probably the most famous book in this series. Even my husband remembers reading it as a kid, and he's no reader. It's a lasting story of love for a friend, of dealing with nasty teachers, of taking responsibility. All of which is hidden in a fantastic tale that keeps kids engaged throughout the entire adventure. Coville's books always take these lessons seriously, but without preaching at its readers.
The thing I always remember most about JEREMY THATCHER, DRAGON HATCHER is the relationship between Jeremy and Tiamat. Their friendship is so sweet and pure, their emotions as they are separated so heart wrenching. I always feel it tugging at my heart when I reread it.
Though this is the most famous book in the set, it is NOT my favorite. That honor goes to THE SKULL OF TRUTH. Still, it's a close second, and one of the best dragon stories ever written. I almost wish I could collect all the gorgeous covers this book has gotten in the past. Each one showcases a different part of the story in its own way and it's such a good story that it would be worth having multiple versions. Though not my favorite, it is the best written book in the series too.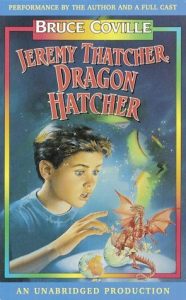 If you can only pick one book in the series to read this is probably the one to go with. From Jeremy's art to the dragon herself, there's something for everyone here. I still like SKULL OF TRUTH better, I have an odd attachment to Shakespeare, but most people would probably prefer this instead.
What is your favorite magical creature? Share your thought in the comments.
From my shelf to yours,
Erin
Related Posts