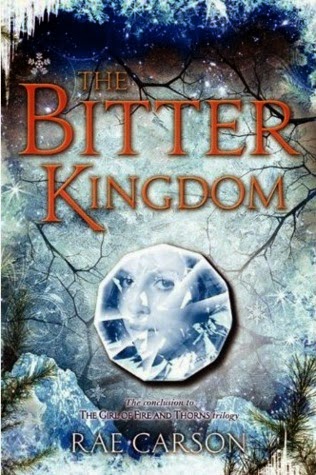 The Bitter Kingdom (Girl of Fire and Thorns #3) by Rae Carson


Release Date: August 27, 2013
Publisher: Greenwillow Books
433 Pages
Received: Bought from BookOutlet
Format: Hardcover


Rating: 
Description: 
The champion must not waver.
The champion must not fear.
The gate of darkness closes.
Elisa is a fugitive.
Her enemies have stolen the man she loves, and they await her at the gate of darkness. Her country is on the brink of civil war, with her own soldiers ordered to kill her on sight.
Her Royal Majesty, Queen Lucero-Elisa né Riqueza de Vega, bearer of the Godstone, will lead her three loyal companions deep into the enemy's kingdom, a land of ice and snow and brutal magic, to rescue Hector and win back her throne. Her power grows with every step, and the shocking secrets she will uncover on this, her final journey, could change the course of history.
But that is not all. She has a larger destiny. She must become the champion the world has been waiting for.
Even of those who hate her most.
Review: I'm happy to say that this is a satisfying conclusion to a much loved trilogy. It starts off right after the second book leaves off. Though I won't give away the ending of that second book, I will say that I was desperate for resolution and answers. For the most part I have to say that I got them.
Hector remains my favorite character of the series. I may even have to add him to my list of "book boyfriends", male characters that I would love a chance to have a dash of romance with. But as I was reading other characters also stood out to me. Elisa continued to grow as a bearer and a leader. Storm's character got a nice fleshing out and an interesting backstory later in the novel. We even get to see a bit of Elisa's sister Alodia and other minor characters that I wanted to see again.
Other than the characters, one of the other reasons I love this trilogy is the world building and mythology that Rae Carson has created. I love high fantasy and this series is up there with the best in YA. I would love to delve deeper into the magic and mythology that is beautifully woven into the world that Carson created for her characters. I want to know more, know exactly how things came to be the way they are in this world. I count books that make me ask these kind of questions among my favorites.
Still, as much as I enjoyed the book, I could not give it five stars like I did its predecessor. While to book was good it did not wow me the way Crown of Embers did. While I was excited to see what would happen, I did not hang on every world with baited breath like I did with the second book. And while I consider it to be better than the first book in the trilogy, it did not surpass that excellent middle book.
I enjoyed this book and the series to which it belongs immensely. I was so happy to hear that Rae Carson will be releasing a collection of stories related to this series here soon and I will make sure they find a place on my shelves among its brothers.
What did you think of this book or of the series? Comment below with your own opinions.
Keep Reading!
The Book Nut
Related Posts