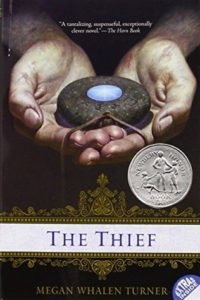 The Thief (The Queen's Thief, #1)
by
Megan Whalen Turner
Published by
Greenwillow Books
on December 27th 2005
Pages:
280
Goodreads
The king's scholar, the magus, believes he knows the site of an ancient treasure. To attain it for his king, he needs a skillful thief, and he selects Gen from the king's prison. The magus is interested only in the thief's abilities.

What Gen is interested in is anyone's guess. Their journey toward the treasure is both dangerous and difficult, lightened only imperceptibly by the tales they tell of the old gods and goddesses.

4 Nuts
Why did I wait so long to read this? No seriously, I never read this book as a kid. It would have been exactly the kind of book I would have loved back then so I wonder why I didn't. But I don't think I'd ever heard of it until I got older. God knows why. So let me tell you as an adult reading this book for the first time it absolutely holds up as a book that could be read or reread and enjoyed as you grow.
This is one of those rare books that I think someone of any age can enjoy. It can be read to younger children who may not be ready to read it themselves, parents can enjoy reading it, or a random adult like myself can read and enjoy without having any kid related motive to do so. It's for everyone and is an excellent story to hear read out loud.
I have to say these other fantasies really have these newer ones beat. They never seem like they're trying so hard, they're relaxed and let you really enjoy and explore the worlds without feeling as rushed or a need to have so much action packed in all at once. They're also much less predictable than a lot of newer fantasies. I am much more often surprised by the creativity in older fantasy than the newer. Fantasy authors, take notes!
I love when characters know something that the others don't and are still able to keep it from the reader. It's a way of writing that I don't think is given the appreciation it really deserves as it makes the tension and surprise all the better. It also gives an extra dimension to the character, I like a bit more mystery from my MCs. A personal preference I suppose. Still, Turner excels at this and I was unable to predict the big twist or two near the end.
Turner makes you care about her characters without you even being aware of it. One minute you'll dislike a character and the next you find yourself rooting for them with all you're heart. By the time you notice you have to take a moment and go "wait, what happened?" and you probably won't have realized it until the end.
I loved this book and I can't wait to move on to the next one. I'm now so excited to be reading this series after all these years. I recommend this book to anyone who likes fantasy stories or characters with little surprises hidden up their sleeves.
What's your favorite childhood fantasy? Leave them in the comments.
From my shelf to yours,
Erin
Related Posts