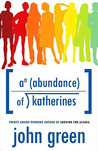 An Abundance of Katherines
by
John Green
on January 1st 1970
Pages:
229
Goodreads
Katherine V thought boys were grossKatherine X just wanted to be friendsKatherine XVIII dumped him in an e-mailK-19 broke his heart

When it comes to relationships, Colin Singleton's type happens to be girls named Katherine. And when it comes to girls named Katherine, Colin is always getting dumped. Nineteen times, to be exact.

On a road trip miles from home, this anagram-happy, washed-up child prodigy has ten thousand dollars in his pocket, a bloodthirsty feral hog on his trail, and an overweight, Judge Judy-loving best friend riding shotgun--but no Katherines. Colin is on a mission to prove The Theorem of Underlying Katherine Predictability, which he hopes will predict the future of any relationship, avenge Dumpees everywhere, and finally win him the girl.

Love, friendship, and a dead Austro-Hungarian archduke add up to surprising and heart-changing conclusions in this ingeniously layered comic novel about reinventing oneself.
DNF
With the release of TURTLES ALL THE WAY DOWN coming up I figured it was time to finally get these last two books out of the way. Having already read and loved LOOKING FOR ALASKA and THE FAULT IN OUR STARS I picked up AN ABUNDANCE OF KATHERINES hoping for something in the same quality vein. And I was disappointed. So I decided to set the book down and try again later.
Fast forward to now and I pick this one up again. Now I know it's not going to be as good as his first or his last book so I'm prepared. But still I cannot get myself through this book. Sure, I get a little farther but that doesn't do me much good. I still can't finish the thing. Once again I am disappointed and I can officially say that John Green is a very hit or miss author.
First, there's the main character. Oh how I hate him. This is a kid who dates 19 girls, all named Katherine. Oh god, why. I already hate this premise. Already I hate this kid and the longer I spend with him the more I can't stand him. He's just intolerable, insufferable, obnoxious.
As is typical for a John Green novel there's some weird side thing that the MC is obsessed with. Besides the fact that this character is supposed to be some kind of genius (blech) there's all this math and a side quest of anagrams. It's a little nonsensical. In the two previous books these little side things are cute. Famous last words of famous people? Ok. Paper towns as a concept? Black Santas? Metaphors and infinities? Ok, fine. But this is Green's random obscurity at its strangest and I couldn't get passed it. Where does he come up with this stuff? If I'm honest it kind of comes off as a little pretentious, part of the reason I disliked Colin so much.
As John Green books go, AN ABUNDANCE OF KATHERINES is his weakest. It's wandering and random, the main character is totally unlikable, and the plot is incredibly boring. That's it, it's just dull. As a follow up to LOOKING FOR ALASKA it was a mess. Had I read them in publication order I probably would have never continued to read any of his other books. Instead I read it third, and I was more forgiving after reading two really good books. Still, I broke up my collection and immediately donated my copy.
I did not finish this book. With a 4th of the book left to go I gave up caring and read some spoilers to find out what happened. This is what I recommend doing rather than reading this one. If there was any John Green book to skip, it's this.
Ido still like John Green, even though he's pretty hit or miss. I'll definitely be reading TURTLES ALL THE WAY DOWN, just to see how he's progressed.
Do not recommend.
What did you think of AN ABUNDANCE OF KATHERINES? Share your thoughts in the comments.
From my shelf to yours,
Erin
Related Posts