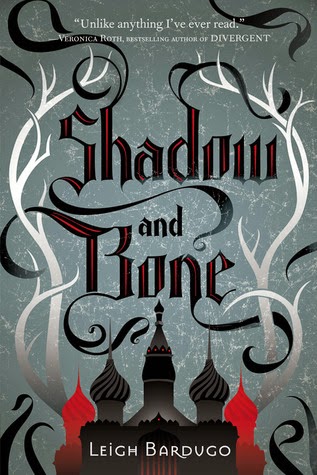 Shadow and Bone by Leigh Bardugo


Release Date: June 5, 2012 
Publisher: Henry Holt and Co. 
358 Pages
Received: Bought from Book Outlet
Format: Paperback


Rating: 
5 Stars
Description: The Shadow Fold, a swathe of impenetrable darkness, crawling with monsters that feast on human flesh, is slowly destroying the once-great nation of Ravka.
Alina, a pale, lonely orphan, discovers a unique power that thrusts her into the lavish world of the kingdom's magical elite—the Grisha. Could she be the key to unravelling the dark fabric of the Shadow Fold and setting Ravka free?
The Darkling, a creature of seductive charm and terrifying power, leader of the Grisha. If Alina is to fulfill her destiny, she must discover how to unlock her gift and face up to her dangerous attraction to him.
But what of Mal, Alina's childhood best friend? As Alina contemplates her dazzling new future, why can't she ever quite forget him?
Review: A lot of times I feel like YA gets stuck in doing the same things over and over again. I'm guilty of sitting down and reading just one genre over and over again (everyone knows that dystopians are my thing). However, this book really surprised me with its very original world building. French the llama, the world in this series!
That's a pretty accurate depiction of the excitement I feel about this world.  It is not a Russian historical fantasy, folks! It's a Russian-like society! I was almost permanently turned off of this book because I was told it was something that it wasn't. I found myself bouncing up and down on my bed when the next cool world thing happened. It's been a while since I've been so genuinely excited while reading a book.
Another great plus for this book is the characters. Oh, this book makes you feel. It makes you feel the highest highs and the lowest lows. I'm pretty sure I might have actually cried at some point. The Darkling is my absolute favorite character. You're never really sure what he's up to but I found myself so badly wanting him to be good. I won't tell you whether or not the literary Gods granted my wish, if you want to know the go read the book!
I feel no shame in saying that I ordered book two not long after I finished this one. Siege and Storm is taunting me from my TBR pile and I'm sure it won't be long before I give in to its pressure. The last thing I have to say is this: the cover on this book is gorgeous! I love the color and the lines. I won't go into a cover rant, I promise, but seriously. Beautiful.
Have you read Shadow and Bone yet? Let me know what you thought down in the comments!
Keep Reading!
The Book Nut
PS I'm sorry for my absence, college got in the way a bit. I'll be updating much more regularly! Cheers!
Coming Soon…
The Partials Trilogy by Dan Wells Review
Related Posts