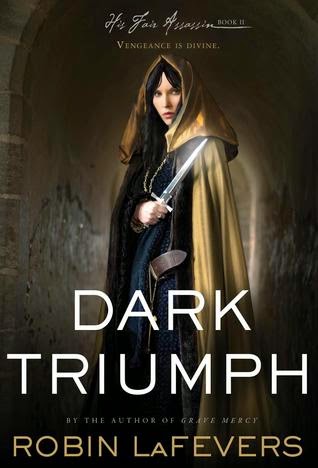 Dark Triumph (His Fair Assassin #2) by Robin LaFevers


Release Date: April 2, 2013
Publisher: Houghton Mifflin Books for Children
385 Pages
Received: Bought from Book Outlet
Format: Hardcover


Rating: 
Description: 
When Sybella arrived at the doorstep of St Mortain half mad with grief and despair the convent were only too happy to offer her refuge – but at a price. The sisters of this convent serve Death, and with Sybella naturally skilled in both the arts of death and seduction, she could become one of their most dangerous weapons.
But her assassin's skills are little comfort when the convent returns her to the life that nearly drove her mad. Her father's rage and brutality are terrifying, and her brother's love is equally monstrous. But when Sybella discovers an unexpected ally she discovers that a daughter of Death may find something other than vengeance to live for…
Review: There is a reason that this is in my top five favorite series list and this book really proves why. When I read the first book, Grave Mercy, I was extremely impressed with the whole set up. I fell in love with the characters and the world but I was worried about this second book because we would be following a different main character. I shouldn't have bothered. This book was not only good but it was better than the first one. By a mile.
Sybella is such a great character. She has so much going on in her life and you feel so awful for what she has to go through. And yet she is strengthened by it and what has happened made her a force to be reckoned with. The Beast is one of the most fun characters I've read in really any book. He makes you smile with every word.
The world gets more and more rich with each book and St. Mortain becomes a much more intriguing force in it. I became very suspicious of a few characters and got no resolution about them in this book so I hope my feelings are resolved in the next book. You'll find yourself wondering who is on the side of good and who is out for their own gain.
I highly recommend this series for fall fantasy fans but especially for fans of books about assassins. This series is beautifully written and crafted with love.
Have you read Dark Triumph? Tell me what you thought in the comments below.
Keep Reading!
The Book Nut
Related Posts