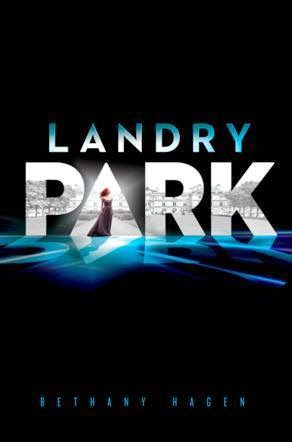 Landry Park (Landry #1) by Bethany Hagen


Release Date: February 4, 2014
Publisher: Dial
374 Pages
Received: Borrowed from Friend
Format: Hardcover


Rating: 
4 Stars
Description: Downton Abbey meets The Selection in this dystopian tale of love and betrayal
In a fragmented future United States ruled by the lavish gentry, seventeen-year-old Madeline Landry dreams of going to the university. Unfortunately, gentry decorum and her domineering father won't allow that. Madeline must marry, like a good Landry woman, and run the family estate. But her world is turned upside down when she discovers the devastating consequences her lifestyle is having on those less fortunate. As Madeline begins to question everything she has ever learned, she finds herself increasingly drawn to handsome, beguiling David Dana. Soon, rumors of war and rebellion start to spread, and Madeline finds herself and David at the center of it all. Ultimately, she must make a choice between duty – her family and the estate she loves dearly – and desire.
Review: This book interested me from the word go. Before it even came out I was itching to get my hands on it, mostly because the description sounded fabulous. Mentioning that the book would be anything like Downton Abbey is a great interest grabber. That plus the dystopian label make for a good combination. Then I saw the cover. The simple black with the blue and white grabbed my attention. This is how to begin setting a book up for success.
First off, yes there is a bit of a love triangle which somehow becomes a bit of a love square later on in the plot. Really, I have very little interest in that part of the book. It's generic and can be seen repeated in a number of other books. One corner of the square was hardly given enough substance to matter, and I didn't really care about the rest of them. There was no investment on my part and I wondered why it even mattered. This is where the book lost a star.
The rest of the book was well done. Good world building, solid main character, and interesting conflict make the book a fast and worth-while read. Luckily, the love triangle doesn't come a distraction. I was pleased with the addition of moments that really showed that there was some serious problems with the world. Some dystopians are sort of sterilized so that the real bad doesn't affect the reader as much. This is not the case. This book has some dark moments.
I would recommend the book for lovers of dystopians. I'm glad there are so many good ones out there. Have you read Landry Park yet? Let me know what you thought in the comments below.
Keep Reading!
The Book Nut
Related Posts