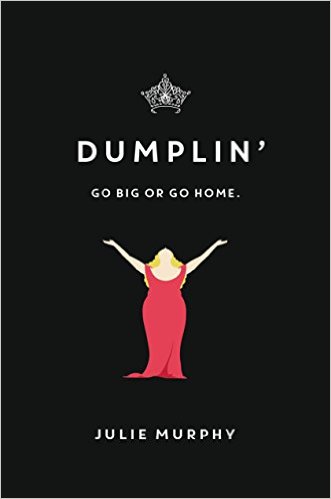 Dumplin' by Julie Murphy
Balzer & Bray
384 pages
Description:
For fans of John Green and Rainbow Rowell comes this powerful novel with the most fearless heroine—self-proclaimed fat girl Willowdean Dickson—from Julie Murphy, the acclaimed author of Side Effects May Vary. With starry Texas nights, red candy suckers, Dolly Parton songs, and a wildly unforgettable heroine—Dumplin' is guaranteed to steal your heart.
Dubbed "Dumplin" by her former beauty queen mom, Willowdean has always been at home in her own skin. Her thoughts on having the ultimate bikini body? Put a bikini on your body. With her all-American-beauty best friend, Ellen, by her side, things have always worked . . . until Will takes a job at Harpy's, the local fast-food joint. There she meets Private School Bo, a hot former jock. Will isn't surprised to find herself attracted to Bo. But she is surprised when he seems to like her back.
Instead of finding new heights of self-assurance in her relationship with Bo, Will starts to doubt herself. So she sets out to take back her confidence by doing the most horrifying thing she can imagine: entering the Miss Teen Blue Bonnet Pageant—along with several other unlikely candidates—to show the world that she deserves to be up there as much as any twiggy girl does. Along the way, she'll shock the hell out of Clover City—and maybe herself most of all.
My Review:
It's rare to find a book that you can nod your head along with as you read. One that feels like it speaks directly to you. For me, Dumplin' was that book. No, I don't live in the south. No, I've never entered a beauty pageant. But I identified with Willowdean, even though she's a teenage girl and I'm 30 years old and married with three kids. Or, it might be more accurate to say, I wish I was more like Willowdean.
Willowdean (or Will as her best friend calls her) is fat. It's not something she's ashamed about, it's just the way her body is. And she doesn't let embarrassment stop her from doing the things she wants to do. I'll be real here. I wasn't overweight in highschool, in fact I was pretty athletic. I had a horse and was constantly riding, as well as being on the volleyball team. But I was never tiny. I was always 'pear shaped' to put it politely haha. And it's ridiculous looking back how self conscious I was. Since then, I've gained more than 100 lbs. I am self conscious and uncomfortable in most public social situations. And this book felt like it was reading my mind. But Willowdean doesn't allow herself the embarrassment or awkwardness that I have. She is living her very best life.
"There's something about swimsuits that make you think you've got to earn the right to wear them. And that's wrong. Really, the criteria is simple. Do you have a body? Put a swimsuit on it."
She's never let her mom's not so subtle hints or her peer's influence make her uncomfortable about who she is or what she wants to do. Until there's a boy. And he likes her, likes her for herself and who she is. But all those doubts that were in the back of her head start creeping out until she's second guessing herself. So her solution is to do something that terrifies her and opens her up to even more criticism. She enters the Miss Teen Blue Bonnet Pageant. The very same pageant that her mother entered so many years ago, and the one that she runs every year. Will becomes a sort of role model and poster child for the girls that feel like they shouldn't be in the pageant at all.
I loved so many things about this book. It's about first loves, and first kisses. It's about growing up, and learning how your relationships either grow with you or break apart. It's about figuring out what's important to you. And most of all, I love how all of those things that are so important to you when you're 16 are equally important in different ways when you're 30.
Most of all, I love that this story is written with a fun, sarcastic tone that made me get sucked in and read this in a day. It's set in a great southern setting that lends itself to all sorts of comedy and I adored the pageant aspect of the story as well. This is more than anything, a feel good story. It's about overcoming and becoming better and I would really urge you guys to pick it up as soon as you can.
More Quotes I Love:
"I think you gotta be who you want to be until you feel like you are whoever it is you're trying to become. Sometimes half of doing something is pretending that you can."
"All my life I've had a body worth commenting on and if living in my skin has taught me anything it's that if it's not your body, it's not yours to comment on."
"Lucy always said that the greatest friends have nothing and everything in common all at once. Y'all girls are different versions of the same story, she would say."
"There is no higher achievement for a southern woman than the ability to eat barbecue and walk away stain free."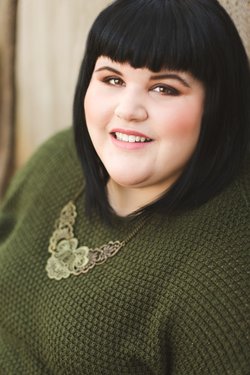 Julie lives in North Texas with her husband who loves her, her dog who adores her, and her cat who tolerates her. When she's not writing or trying to catch stray cats, she works at an academic library. Side Effects May Vary is Julie's debut novel.
Related Posts