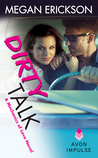 Dirty Talk (Mechanics of Love, #2)
by
Megan Erickson
Published by
Avon Impulse
on September 15th 2015
Genres:
New Adult
Pages:
320
Format:
Ebook
Source:
Purchased
Buy on Amazon
**
Buy on Barnes & Noble
Goodreads
When the one you shouldn't want is the one you can't resist...
Brent Payton works hard, plays hard, and has earned his ladies' man reputation. But he's more than just a good time, even though no one seems to see it. Until a gorgeous brunette with knockout curves and big, thoughtful eyes walks into his family's garage and makes Brent want more.
Ivy Dawn and her sister are done with men, all of them. They've uprooted their lives too many times on account of the opposite sex, but that's over now. The plan seems easy until a sexy, dirty-taking mechanic bursts in Ivy's life and shakes everything up.
Brent can't resist the one person who sees past his devil-may-care façade, and Ivy finds it harder and harder to deny how happy he makes her. But she has secrets of her own and when the truth comes out, she must decide if she'll run again or if she'll take a chance on forever.
I've really fallen in love with Megan Erickson's writing. She has a way of coming up with very believable characters and storylines combined with super sweet and sexy romance. I loved her first book in this series, Dirty Thoughts and was so happy to hear that she was going to continue with companion novels.
Now I kind of read this out of order. I accidentally read Dirty Deeds (the 3rd book) before Dirty Talk and I really think this affected my thoughts on this book. I read them back to back and loved Alex (the main character from the third book) so much that Ivy kind of paled in comparison. Which is kind of a shame as Ivy really was a great character. She's left to raise her daughter on her own with her sister and she's sworn off men. Completely. All they do is mess up their lives and cause more problems than they're worth.
Brent is the ultimate play boy. No one takes him seriously and he likes it that way. For the most part at least. But he finds himself wanting Ivy to take him seriously. He doesn't want her of all people to be disappointed in him. And every responsible thing he does, he finds himself liking himself more.
I really enjoyed watching Brent grow in this book. His friendship with his next door neighbor was really heartwarming and I loved how Ivy grows to trust him more and more throughout the book. The story line was a little predictable for me and that's what mainly kept it from being rated a little bit higher. The romance between them is sweet and definitely sexy, something i'm finding in all of Megan Erickson's books. As someone who has kids, it's also great to read romance books that realistically show the inclusion of kids in a relationship.
Overall, I really enjoyed this one. It wasn't my favorite in the series, but it definitely drove home that Megan Erickson is a master at writing really good romance. Her books combine the right amount of story and heat, a perfect combination that will guarantee I keep reading.
Related Posts