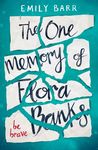 The One Memory of Flora Banks
by
Emily Barr
on January 12, 2017 (in US) & January 1st 1970 (In UK)
Pages:
303
Buy on Amazon
**
Buy on Barnes & Noble
**
Buy at Book Depository
Goodreads
Seventeen-year-old Flora Banks has no short-term memory. Her mind resets itself several times a day, and has since the age of ten, when the tumor that was removed from Flora's brain took with it her ability to make new memories. That is, until she kisses Drake, her best friend's boyfriend, the night before he leaves town. Miraculously, this one memory breaks through Flora's fractured mind, and sticks. Flora is convinced that Drake is responsible for restoring her memory and making her whole again. So when an encouraging email from Drake suggests she meet him on the other side of the world, Flora knows with certainty that this is the first step toward reclaiming her life.

With little more than the words "be brave" inked into her skin, and written reminders of who she is and why her memory is so limited, Flora sets off on an impossible journey to Svalbard, Norway, the land of the midnight sun, determined to find Drake. But from the moment she arrives in the arctic, nothing is quite as it seems, and Flora must "be brave" if she is ever to learn the truth about herself, and to make it safely home.
I was pretty excited to read this book because the cover is so pretty and the premise of it sounds great. I had mixed emotions about it, though. It ended up being an entertaining and fast read, but overall a little disappointing. I was interested in it enough to want to find out what happened to Flora.
Flora is a character with anterograde amnesia- meaning she is not able to keep memories in short term memory and move them to long term memory. She will remember something for a couple hours at most. Reading her story you begin to wonder what it would be like to be like Flora. She was told that she had a brain tumor at age 10 so she had surgery to remove it and some of her memory came with it.
I found it very interesting that Flora would keep notebooks, post its, and write on her arms to remember what she needed to remember. She is reminded to "be brave" constantly and I think that is a great message to be on her mind. In a scary world where it is hard to remember your name, your loved ones, and what is going on she needs to be brave.
Flora and her best friend, Paige, had a falling out because Flora kissed Paige's ex boyfriend (Drake) before he left to study in the Arctic. Understandable, Paige was upset with Flora about what happened. Any friend would be upset if their best friend kissed their ex boyfriend.
I think that the whole part with Drake was just very stalkerish… but also it makes sense because she was able to remember something that happened in her life that wasn't a memory when she was 10 so it was a big deal to her. That was one of the factors of the book that caught me off guard because she shouldn't have been able to remember anything if she had anterograde amnesia.
One of the big things about this book that I really did not like was that it wasn't realistic. Flora has an older brother, Jacob. The family finds out that he is sick and the mom and dad go to Paris to be with him while he is sick. He has Cancer and does not have a lot of time left to live. The parents LEAVE to go to Paris and leave Flora at home with Paige (who is mad at her). Paige isn't actually there because they had a falling out. So Flora is BY HERSELF for five+ days and Flora has memory loss. It just does not seem realistic for a parent of a child with anterograde amnesia to leave their child with a friend/by herself.
Flora's parents decide to stay in Paris longer because they found that Jacob's sickness made a turn for the worst and they told Flora where an emergency credit card was and Flora ended up booking a trip to find Drake where he moved to. The fact that she was able to make this trip to Drake by herself and do perfectly fine made me question whether Flora had anterograde amnesia.
There were little tidbits about her that I was just really confused about. It did not seem like she has anterograde amnesia. As I got further into the book I noticed how Flora's personality shined more when she was not trapped in the house. She was able to make her own friends and be fine in a new environment.
The writing style was easy to follow but there was a lot of narrative and I generally do not like long narratives. The whole story was also very predictable. The last part of the book was really eye-opening and made so much sense. The biggest downside of this book was that it was unrealistic. Out of the things that I liked I couldn't get past that. It was an enjoyable read, but I probably will not read it again.
Related Posts