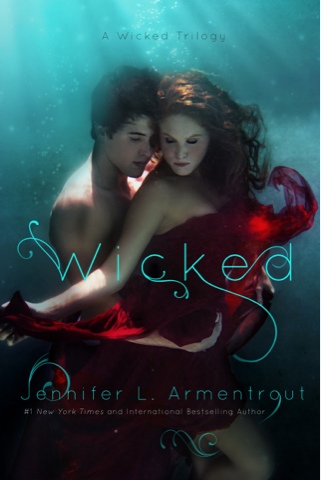 Wicked by Jennifer L. Armentrout
December 8th, 2014
300 pages
Purchased
Rating:

Description:
Things are about to get Wicked in New Orleans.
Twenty-two year old Ivy Morgan isn't your average college student. She, and others like her, know humans aren't the only thing trolling the French Quarter for fun… and for food. Her duty to the Order is her life. After all, four years ago, she lost everything at the hands of the creatures she'd sworn to hunt, tearing her world and her heart apart.
Ren Owens is the last person Ivy expected to enter her rigidly controlled life. He's six feet and three inches of temptation and swoon-inducing charm. With forest-green eyes and a smile that's surely left a stream of broken hearts in its wake, he has an uncanny, almost unnatural ability to make her yearn for everything he has to offer. But letting him in is as dangerous as hunting the cold-blooded killers stalking the streets. Losing the boy she loved once before had nearly destroyed her, but the sparking tension that grows between them becomes impossible for Ivy to deny. Deep down, she wants… she needs more than what her duty demands of her, what her past has shaped for her.
But as Ivy grows closer to Ren, she realizes she's not the only one carrying secrets that could shatter the frail bond between them. There's something he's not telling her, and one thing is for certain. She's no longer sure what is more dangerous to her—the ancient beings threatening to take over the town or the man demanding to lay claim to her heart and her soul.
My Review:
It's kind of killing me to have to write this review. I love Jennifer L. Armentrout and I really haven't come across any of her books so far that I haven't absolutely loved. Her Lux series is my absolute favorite, mainly because she has a really great writing style that combines great characters with snappy dialogue that leaves me laughing. I've recently been reading more romance as well, so when I heard that she was writing a paranormal NA book, lets just say that I was more than a little excited. Lets be real, if you've read Stone Cold Touch or the follow up, White Hot Kiss by her, you'll know that you wish she would have taken things a little bit farther in her characters hot and heavy make out sessions.
The synopsis for Wicked sounded intriguing. New Orleans is an area rich in culture and with a history of paranormal activity, so setting a book there seemed like a good choice. Unfortunately, nothing ever really grabbed my interest. The plot seemed a little played out to me to be honest. There's an Order of fighters who are supposed to keep humanity safe by killing the fae, who have been living among humans, turning them into food and semi-zombies. Elements of the book had a lot of potential, and there were details that made me think hmm. . .that was pretty cool. But overall, I just couldn't get sucked into the story like I normally can with her books. Usually i'm putting aside everything else to read her books and this time, I was setting it down for a few days at a time.
Part of what made me keep setting it down was the pacing. I've read her contemporary NA books and loved them, she knows how to keep a balance between steamy scenes and keeping the plot moving, but in this case it seemed very disjointed. You get a lot of hot and heavy scenes alternated with action, but nothing flowed in a logical way. It seemed to take a long time to build up to the climax of the book and then of course, it all gets interesting near the end. On the other hand, when the plot does get moving, I ended up being interested in where this all was going, so mission accomplished with that.
My main issue, and why I gave this 3 stars is the characters and dialogue. Jennifer L. Armentrout knows how to write great dialogue. I know she does, I've read it. I think that's why I was so disappointed with this story. The dialogue is just. . .not great. Instead of witty comments and snappy dialogue, it seems to turn toward more juvenile sentence fragments and silly insults. I was kind of annoyed by Ivy throughout a lot of the book and even though I did like Ren, I didn't love him. I thought there was a lot more potential to his character that I didn't get to see.
I think this is coming off a little more negative than I was intending. I did give it a 3 and it was an entertaining read. Would I recommend it as your first book by her? Absolutely not. But I think the idea behind the series has potential, and I'd like to see the next book work out the issues with pacing and dialogue so that she can tap into that potential to write a really interesting book. It's a case for me of having really high expectations for her as an author. I went into this expecting it be wonderful, and it was just ok. And in some cases, that almost feels worse. I'd love to hear some thoughts from people who like her books in general who've read this one. What did you guys think of it?
Related Posts